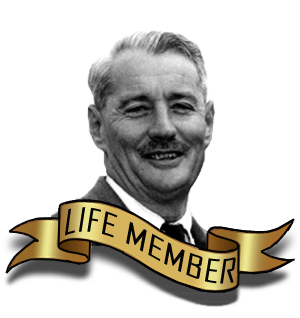 A Former Life Member Now Deceased *
Bill was born in Malvern, South Australia, in 1909. He worked for the National Bank for 45 years, with the exclusion of seven years, which were served in in the "Seaforth Highlanders" during World War II. In this time he advanced up the ranks to finally become a Major.
After the war, at the age of 39, he finally married and started a family. Even with so much going on in his life at that time, he said jokingly he was still able to father a son and daughter. Retiring from his working career in 1971, Bill saw this as the beginning of a new life, which he proceeded to fill with big game fishing, entering national fishing tournaments and winning fishing titles.
During this time period, Bill's wife was heavily involved with Meals on Wheels. Bill supported her efforts with his own delivery round, which saw him spending lots of hours delivering meals. In 1978 he also took on the role of treasurer for the Norwood Branch of Meals on Wheels. It was Bill's way of giving something back to the community.
Bill joined the Game Fishing Club of South Australia in April 1947 and, after a few years of getting the feeling of the running of the club, he successfully nominated for the job of Treasurer, serving from 1952-1953. From 1956-1959 Bill successfully nominated and filled the position of Secretary. He then progressed to the position of Club President, serving from 1959-1962.
Bill received Life Membership in 1974 from our Club for his massive input and efforts. Not long after his Presidency, Bill became the President of the national body, the Game Fishing Association of Australia (G.F.A.A ) and served from 1974-1975. In late1975 he also was recognised by GFAA for his efforts and personal contributions to the growth of that association, and was honoured with Life Membership. Bill then became treasurer of the GFCSA once again from 1968-1984.
During the 1960s and right through to the 1980s, Bill also took on the additional job of Weight Recorder up until 1981.While Bill held all of these Club positions, he was also President and Secretary from 1981-1983 of the South Australian Game Fishing Association.
To read more see:-
Excerpt — Reference The Game Fishing Club of South Australia's History Book
"75 Years of The Game Fishing Club of South Australia 1937-2012 "