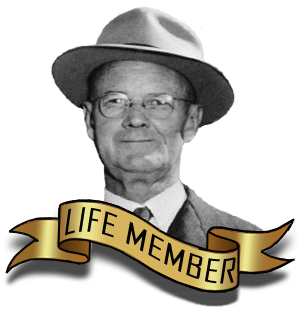 A Former Life Member Now Deceased *
Thomas (Tom) Cooper's membership application into the Game Fishing Club of SA was tabled on the 9th of November 1938 at the committee meeting held at Vignals Café. Reading from the minutes of the 14th December 1938, Tom was accepted into the Game Fishing Club of South Australia.
In the early days he fished with club mates Fred Ayres, Joe Wardon, and Les and Vin Hannan at Rapid Bay and caught a nice tuna weighing in at 52.5lbs.
He received a trophy in 1940 at the Club's annual presentation, for the above Tuna
In October 1940 the Chairman at the time approached and interviewed Tom Cooper regarding a position on the committee as Hon. Treasurer.
This motion was put forward by Mr. Johnson, seconded by Mr. Von Douses, accepted by Mr. Tom Cooper
He was in this position until 1950/51.This position as Treasurer was then taken on by Mr. Polson from 1951-1952. Tom later rejoined the committee for many years to come.
On a committee meeting in February 1948 a number of committee persons donated money and trophies for certain species of fish caught. Tom donated a perpetual pennant for the best game fish on 15 thread line.
To read more see:-
Excerpt — Reference The Game Fishing Club of South Australia's History Book
"75 Years of The Game Fishing Club of South Australia 1937-2012 "