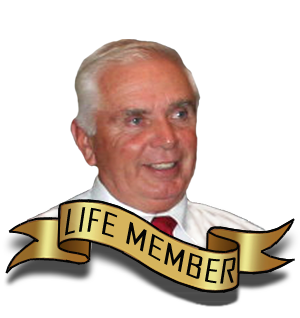 Rolf Czabayski first picked up a fishing rod when he was 34 years old. A fishing trip to Brown's Beach, on southern Yorke Peninsula, that yielded just a few tommy ruffs and salmon was enough for him to catch the bug. Thanks to his brother in law ,Joel Hall and friend Jim Mc.Mahon .
A year later he would be skippering the 10-metre Calypso 11 - which would become one of South Australia's best-known and most successful game boats - to some of the most dangerous locations around the State chasing game fish and sharks.
The Calypso 11 would be the first of many game boats owned by the brash, energetic and determined German immigrant, who arrived in Australia when he was just 20 years old and set about building a future.
With nothing to his name but an electrical Tradesman certificate, he threw himself into working enthusiastically for others until starting his own electrical business when he was aged 26.
A decade later that same enthusiasm and sheer determination to succeed saw his thriving electrical contracting business employing a dozen electricians.
There is little doubt the same drive behind Czabayski's business success has been responsible for his unparalleled results in his fishing endeavours.
But it wasn't all good fortune in his early years. When Rolf first tried to join the Game Fishing Club of SA in 1976 he was knocked back. He was politely told that he could not join unless he was known to a member for more than two years, due to rules under the club's constitution.
Considering he hadn't even been fishing for that long, that presented a significant problem. While other less determined individuals may have accepted that situation, that wasn't in his genetic makeup.
Rolf simply set about making himself known to then club secretary David Fairs and other members who were impressed with his attitude.
His clear enthusiasm and love of the sport became abundantly clear not just to Fairs, but to other senior club officials including then president Keith Waterman, and the two year rule was waived.
To read more see:-
Excerpt — Reference The Game Fishing Club of South Australia's History Book
"75 Years of The Game Fishing Club of South Australia 1937-2012 "
Rolf Czabayski, Born:.. 21st july 1941 Passed away on 18th Nov 2021