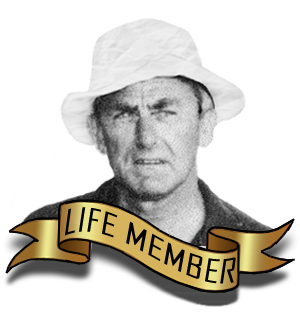 A Former Life Member Now Deceased *
Written by his son Breck Waterman. My dad was the Secretary of the Game Fishing Club 1974-1976 and became President in 1976-1978 and later in 1993 became a Life Member of the club.
One of my first memories as a child was fishing with dad in the late 1950s, out the front of our house at Tennyson. Dad had a 16ft wooden clinker built, open boat with a small diesel engine. This day we caught a large snapper and two bluefin tuna (about 15kg each). All just a couple of miles offshore.
He was always interested in fishing and passed this interest on to the rest of the family.
His game fishing started with fishing for sharks in the local Adelaide area. He then accompanied other members of the Club on voyages to the West Coast to chase great whites. This was started by Alf Dean after he captured his world record shark off Ceduna.
He then started attending the annual Bluefin Tuna Tournament in Tasmania, held at Eagle Hawk Neck with John Johnston in the early 60s. Here they fished on local cutters used for lobster fishing.
They soon heard about a new fishing area in Queensland, the black marlin grounds off Cairns. This started regular annual trips to Cairns to chase the black marlin in the late 60s, also with John Johnston.
During this time he purchased a shack at Cape Jervis, where he and his sons fished regularly for snapper and sharks.
Cape Jervis was a very small settlement in those days, consisting of a mixture of professional snapper fisherman and a few amateurs.
To read more see:-
Excerpt — Reference The Game Fishing Club of South Australia's History Book
"75 Years of The Game Fishing Club of South Australia 1937-2012 "