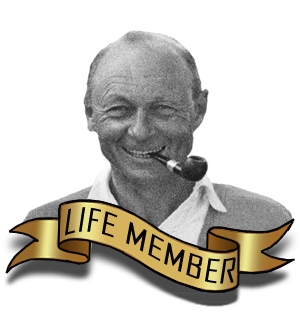 A Former Life Member Now Deceased *
Jim Veitch has been an active member of this Club since its inception in 1937 and was our 1st Weight Recorder.
An Australian Record was granted to Jim for a White Shark he caught weighing 928lbs on the 12th November, 1938 on 36 thread line which was caught off Semaphore, Adelaide.
He went on to catch a number of White Sharks in the following years. On the 15th November, 1940 an 825lb caught of Streaky Bay, on the 10th April, 1941 a 700lb of Streaky Bay, the 16th of May, 1941 a 1108lb of Streaky Bay and on the 24th April, 1948 a 1752lb which was a World and Australian Record and there were many more captures to follow.
He also has the distinction of being the first member of our Club to record a White Pointer weighing over 2000lbs in South Australian waters. It took Jim 4 hours and 25 minutes to bring the 2071lb White Pointer before the gaff was placed into the fish.
To read more see:-
Excerpt — Reference The Game Fishing Club of South Australia's History Book
"75 Years of The Game Fishing Club of South Australia 1937-2012 "