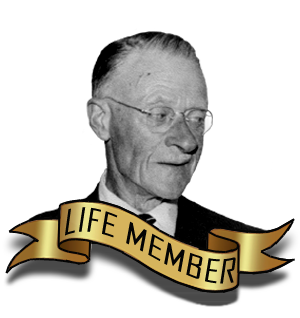 A Former Life Member Now Deceased *
Edgar applied for Membership in to the Game Fishing Club of SA on the 13th of January 1938. His membership wish was accepted at the following Committee meeting. Only eight month later on the 6 th of September 1938 Edgar was approached by Mr.Von Doussa ,committee member at the time to join the committee.
He accepted and stayed in the Committee until the war started. After the War in 1946 he returned to the Club and also rejoined the Committee .
Edgar liked to fish at Rapid Bay and Coffins Bay with various Club Members, He caught a lot of Tuna with Bill Coombs out of Coffin Bay.
Before the war the club purchased a number of weighing scales. Edgar suggested in one of the Committee meetings in 1948 that the Clubs Weighing scales be tested annually, which was adopted. It was also the recommendation of Eldred that a Club Photo Album be purchased and photographic records be kept of fish and the Clubs members, memo was sent to all members, requesting to supply photographs of recordable fish caught in the past and present.
This photo album is still in the Club, but it is not known or documented, who kept and entered all the photos up until 1955. It's thanks to that unknown person I have been able to use a lot of those photos in the stories for the Life Members. It is seen in the Minutes that he was also the Weight Recorder of the Club in 1947 and took on the Position as President from 1951-1952. Edgar again took on the position of Weight Recorder in 1955 and 1961 and served in the committee to 1962 .
To read more see:-
Excerpt — Reference The Game Fishing Club of South Australia's History Book
"75 Years of The Game Fishing Club of South Australia 1937-2012 "