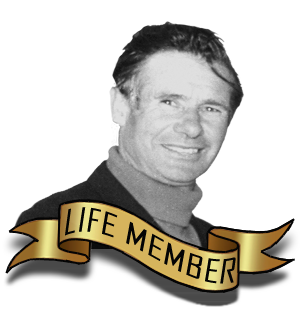 A Former Life Member
Clive joined the Game Fishing Club of SA in 1953 and joined the committee in 1956, he was the honorary Secretary from 1966-1969 and became president in 1969 -'72. In 1981-1984 he took on the position of Weight Recorder. Clive was also the Secretary of the S.A. Game Fishing Association from 1981-1983 while John Johnston was the President. Ralph Parsons was the President of the Association from 1983-1985, Clive was the Vice President at the same time.
After this term with the association he was awarded life membership of the GFCSA in 1985 for his 32 years of service Clive contracted Searles Ship Builders of Port Adelaide to build a 24ft sail motor cruiser named after his wife, Sue Ellen. This sail motor cruiser was built out of jarrah and was designed to catch white sharks with a chair fitted at the stern. There's a photo of the chair in the G.F.C.S.A. clubrooms. Clive fished mainly out of Port Vincent on the Orontes Bank, where he caught most of his white sharks – 11 in total from his sail motor cruiser, the largest being 1700lb. Clive donated the jaws recently to the Club, which has decided to restore them to their original glory and mount.
To read more see:-
Excerpt — Reference The Game Fishing Club of South Australia's History Book
"75 Years of The Game Fishing Club of South Australia 1937-2012 "