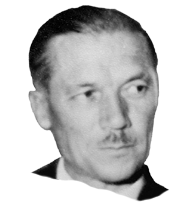 A Former Life Member Now Deceased *
Jim Cowell was one of the early members of the Game Fishing Club and was elected to be the president from 1939-1942, however, the Club's activities were suspended during the war.
The Club started up again in 1944 and Jim was President again until 1948. Later in years, in fact in 1950—1951, he was the President and awarded in late 1951 Life Membership of the Game Fishing Association of Australia (G.F.A.A.).
He was also awarded life membership on the 28th September 1956 of the Game Fishing Club of S.A.
Jim caught his first White Pointer Shark weighing 1000lbs in 1938 and in 1941 he caught a world record White Pointer Shark weighing 1919lbs.
Jim was an engineer and experimented in the early days with the making of greenhead flat rods with which he had remarkable success.
He also made the first circular platform to attach to the stern of a commercial fishing boat and designed an ordinary tractor seat with a rubber insert as a game chair.
Jim also made his own shark hooks and other parts of his equipment and caught many Sharks as seen later in this article.
To read more see:-
Excerpt — Reference The Game Fishing Club of South Australia's History Book
"75 Years of The Game Fishing Club of South Australia 1937-2012 "