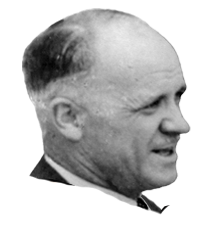 A Former Life Member Now Deceased *
Not much is known about this Pioneer of the past but he is still known to us through the memories of Ern Palmer's book and the Clubs photo album.
Jack was the prime mover to establish a Game Fishing Club in South Australia and later became President from 1952-53. Jack was also awarded life membership on the 28th of September 1956.
Jack's first Boat was 12 feet long and was build by Mr. Fraser of Birkenhead came with Oars and an Evinrude Motor was purchased and fitted, later in time he visited the Boat Builder Fraser again to build a 15 feet Clinker Boat which he sold to Ern Palmer.
Jack Lord Arthur, fishing at Rapid Bay, caught the first Southern Blue fin Tuna on rod and reel using a red and white feather lure in 1936. The Blue fin were known as "Skipjack", "Blackfish," or "Bonito" and were not fished for commercially. Jack took the fish to the museum authorities, packed in ice and it was then sent to Melbourne where Dr. McCoy identified it as a new species —Thunnus maccoyii (Southern Blue Fin Tuna).
To read more see:-
Excerpt — Reference The Game Fishing Club of South Australia's History Book
"75 Years of The Game Fishing Club of South Australia 1937-2012 "